Provençal Tomato Cheese Tart

August 23rd, 2017

0 comments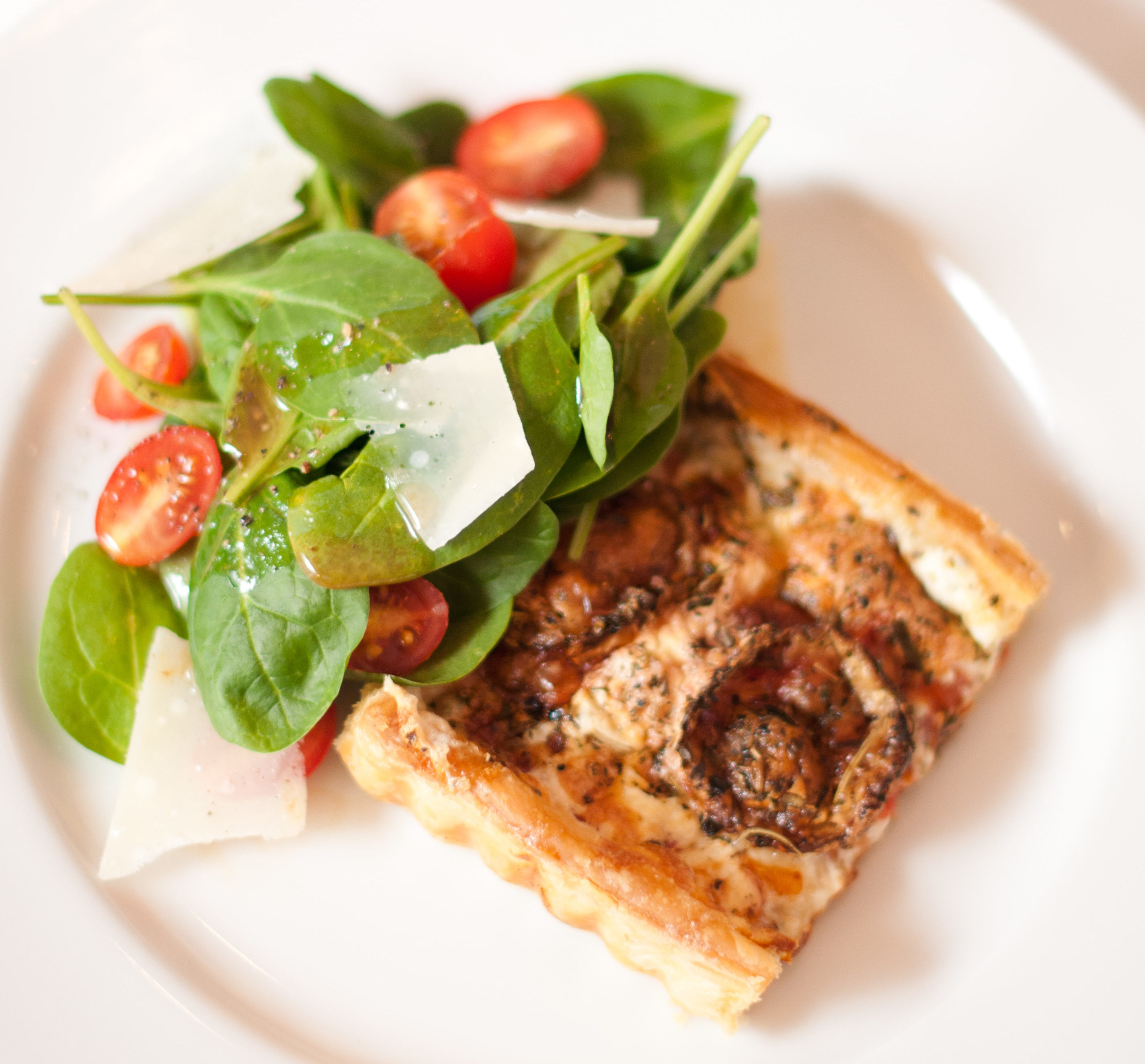 There is nothing better than ripe tomatoes in August and this is the perfect summer recipe for tomato season. My host mother Martine would make this tart when I lived in Lille. Funny enough I remember the first time she made it. It was for dinner served with a salad. I remember looking at the table thinking, "Really?!? This is it? I'm not sure I'm going to like this." Boy did I stand corrected! To this day this is one of my favorite things to make. It is also here that I fell in love with goat cheese.
Sometimes I even like to have fun by switching up the tart pans I use. Instead of using a 10-inch round, I may go for a rectangular or hearts shaped pan. Making smaller individual tarts not only impress guests, but make for great appetizers and are perfect for transporting to outdoor picnics.
Martine told me the key to the tart is making sure almost all the liquid from the tomatoes evaporates, because let's face it no one likes a soggy crust. I also knew her addition of herbes de Provences is what really brought the flavor to the next level. Tomatoes at the height of their season, quality cheese and herbes de Provences just so happens to be one of those dream combinations. Taste and see for yourself how simple ingredients can turn into the perfect lunch or dinner.
*Click here for Martine's Pate Brisee recipe.

Print

Provençal Tomato Cheese Tart
window.location.href
4 medium tomatoes, sliced ¼ inch thick, seeds removed
2 tablespoons grated parmesan (preferably pareggiano reggiano cheese
1 recipe Martine's Pate Brisée (click above for recipe)
4 ounces goat cheese, sliced (preferably Crottin de Chavignol)
¼ pound fresh mozzarella, sliced
2 teaspoons herbes de Provences
fine sea salt
freshly ground pepper
Preheat the oven to 375˚ and adjust a rack to the middle of the oven. Place sliced tomatoes on a paper towel and sprinkle with 1 ½ teaspoons salt. Make Martine's Pate Brisee dough according to the recipe and place inside of a 10 inch ruffled tart pan.
Sprinkle the grated parmesan evenly on the bottom of the tart shell. With a paper towel, remove the excess moisture from the tomatoes. Place the tomatoes nicely around the inside of the tart, being sure to cover the entire surface of the tart. It's ok to overlap the tomatoes. Place the goat cheese and mozzarella, alternating between the two, on top of the tomatoes. Sprinkle with herbes de Provence, 1 teaspoon salt and freshly ground black pepper.
Bake the tart for 45 minutes to an hour, until almost all the liquid from the tomatoes evaporates and the crust is golden brown. If you notice the tart is starting to brown too quickly and there is still a lot of liquid left, cover the tart with foil. After the tart is finished let cool down for 15 minutes before serving so the tart sets and is easier to cut. Cut using a serrated knife.
Don't have time to make crust? Buy frozen puff pastry or unsweetened pie dough instead.
Love olives? Try adding sliced or pitted olives to the tart in true Provençal fashion.
Change up the cheese, use your favorite cheese or blend of cheeses.