Wild Salmon Terrine with Shrimp

August 16th, 2017

0 comments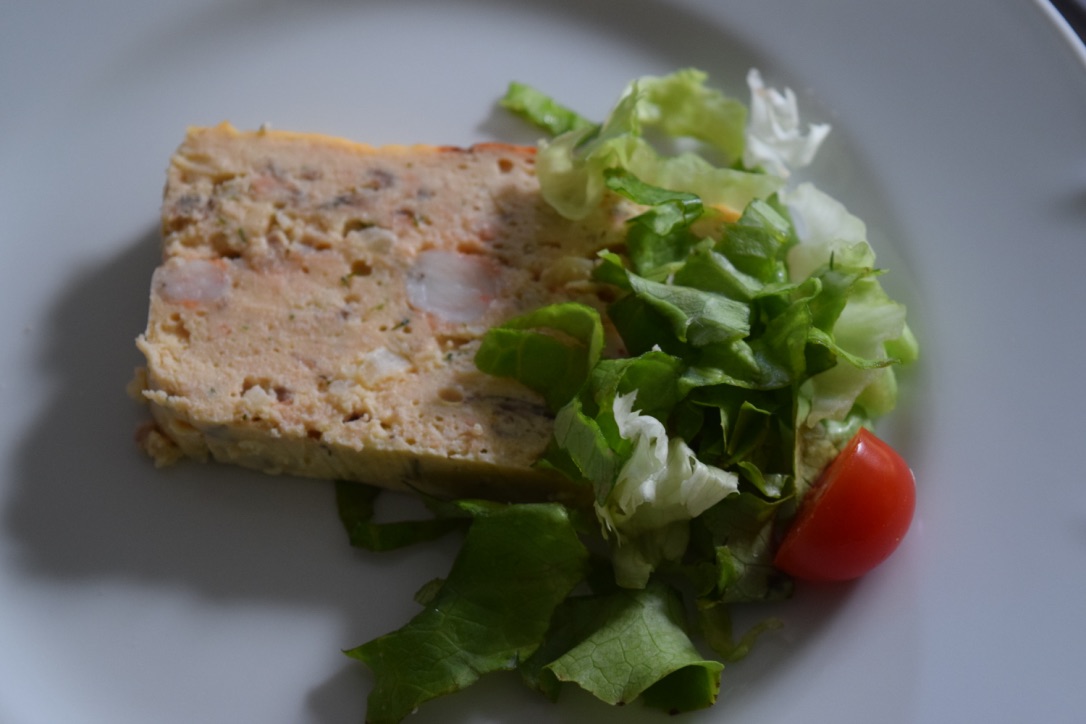 My French host mother got this recipe from the local farm to table grocery store. The store may be small but it's quite the food experience. It's original name Ferme du Sart had to be renamed O'Tera Sart because some French were adamant it was not a real "farm" but should be considered more like "fields/land." Every time I'm in Lille I HAVE to go grocery shopping here. They have some amazing yogurts, cheeses, and meats from various neighboring farms. Most of the produce comes from their own fields but is supplemented by local farmers' produce. The breads and baked goods are always staring you down, begging to jump into your cart. But what will always jump into your cart, free of charge, are their recipes. As you zigzag your way through the aisles you'll find various recipes next to certain foods, incase you needed new ideas. It's a dangerous place to be! So it was surprised to see how they incorporated their local northern coast shrimp into their salmon terrine recipe. I've adapted this recipe so you won't have to struggle with a French to English translation, and the measurements are easier to follow. And trust me, this is a lot easier than it may look, thanks to a food processor. The terrine is normally served chilled but you can always enjoy it hot. If you're entertaining, your guests are going to think you really rolled out the red carpet for them. So lights, camera, action and knock them off their feet!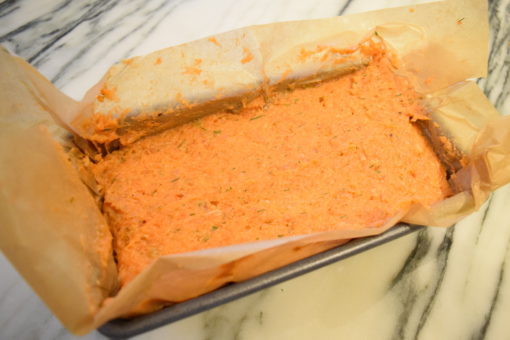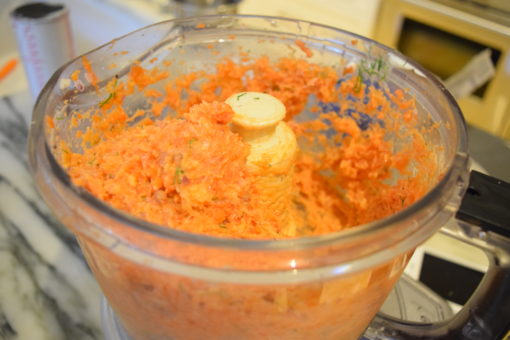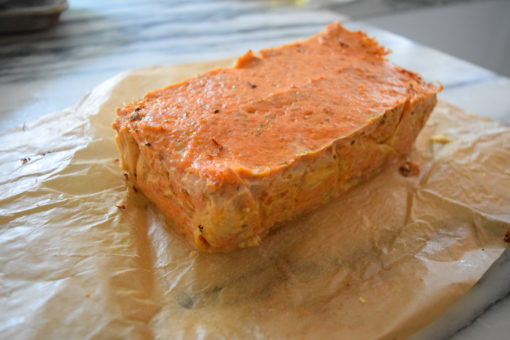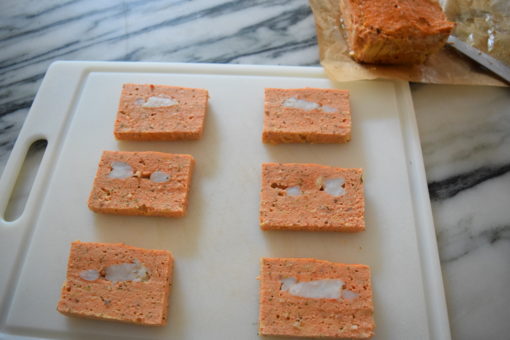 Print

Wild Salmon Terrine with Shrimp
window.location.href
1 tablespoon butter, softened
1 tablespoon extra virgin olive oil
½ pound shrimp, peeled and cleaned
pinch plus 1 teaspoon salt
pinch plus ¾ teaspoon freshly ground black pepper
1 1/3 pound wild salmon, skinned and deboned, about 3 cups
1 large shallot, chopped
2 garlic cloves, chopped
½ cup crème fraîche
3 large eggs
3 slices of pain de mie cubed (white bread), crust removed, about 1 cup
2 tablespoons fresh fennel fronds, chopped (see DK Tips for other herbs)
Position a rack in the middle of the oven and preheat the oven to 350˚. Bring 4 cups of water to boil and set aside. Line a loaf pan with parchment paper. Butter the parchment paper and set aside.
Place a skillet on medium high heat, add the oil and shrimp and cook for about 4 minutes, until they are just cooked. If they are slightly undercooked don't worry because they will finish cooking in the terrine. Season the shrimp with a pinch of salt and pepper and set aside to cool down.
Place the salmon, shallots, garlic, salt and pepper in a food processor and blend until it just comes together. Add the crème fraîche, eggs, and cubed bread to the food processor, blend until smooth and you have one homogenous texture. Sprinkle in the fennel fronds or herbs of choice and pulse food processor 5-8 times until evenly distributed.
Place half of the salmon mixture into the parchment lined loaf pan. Smooth out the surface and place the shrimp flat on top of the salmon mixture. Leave about ½ inch to an inch of space along the edges of the pan. Place the remaining salmon mixture on top of the shrimp, making sure the top of the terrine is smooth. Place the loaf pan in the middle of deep lasagna pan or baking dish. Pull the oven rack half way out of the oven and placing the pan into the oven. Prepare the water bath: pour the hot water into the lasagna pan/ baking dish, leaving a half inch from the top of the pan and making sure no water spills into the loaf pan with the terrine. Gently push the rack into the oven and bake for 40-45 minutes, until the terrine is cooked through.
Let the terrine cool down to room temperature for 30 minutes before placing it in the refrigerator for an hour and a half to two hours. If you're in a rush you can place the terrine in the freezer for about 40 minutes. Once the Terrine has chilled, slice slowly with a serrated knife. I start by trimming the edges and then I cut the loaf into ½-¾ inch slices. Serve with a small salad, or in true Lille/Belgian style, way with mayonnaise.
No fresh fennel? No big deal, use can use dried fennel fronds or replace with parsley, chervil and/or chives.
Swap out the shrimp for some fresh crabmeat in the middle.
This is a great "make a head" dish. Make it the day before and chill over night.