Vanilla Cake with Fresh Berries: Happy 4th of July

July 4th, 2017

0 comments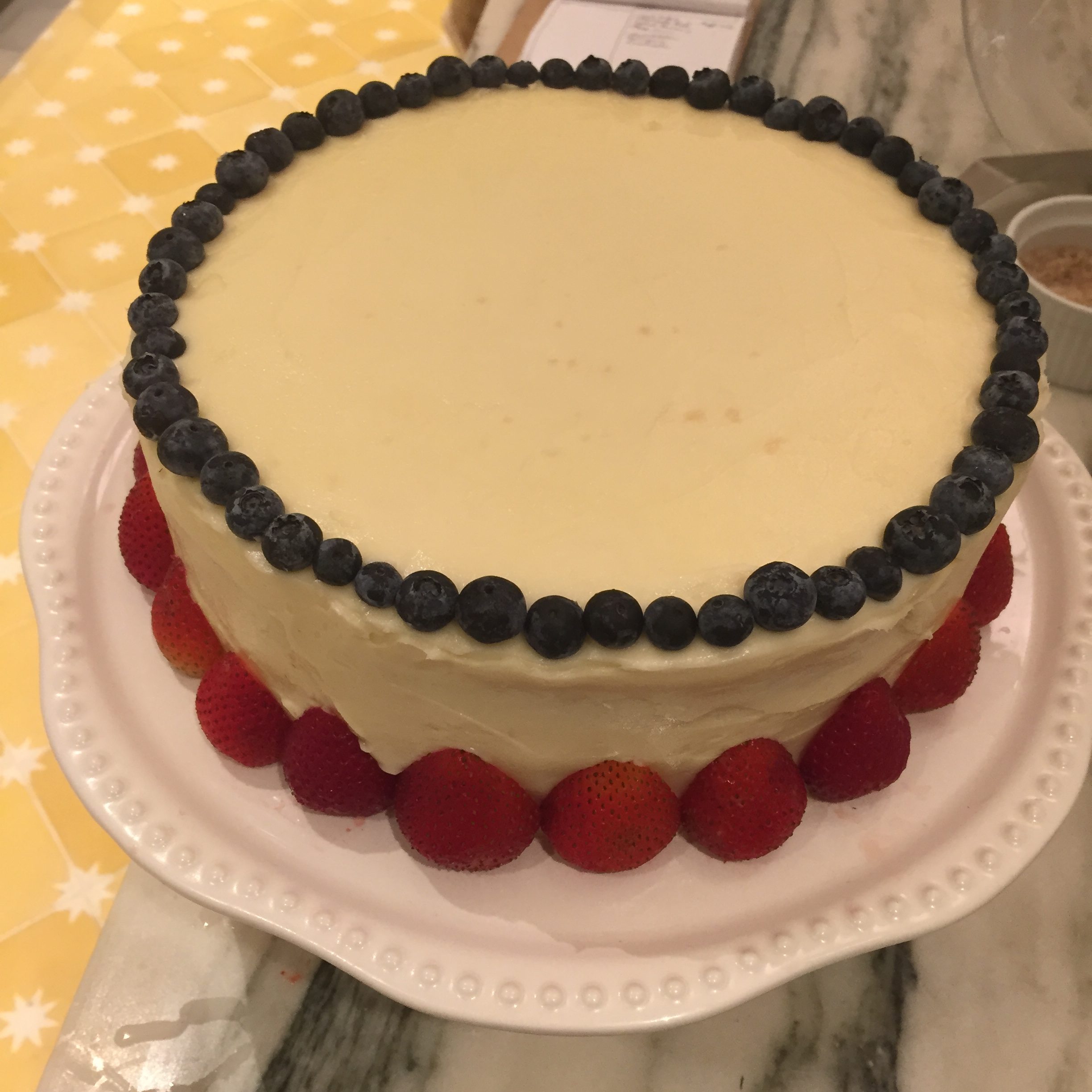 It's the 4th of July and I wanted to share one of my all time favorite vanilla cakes with you all. It's an American classic brought to you by what some call the mother of American baking, Fanny Farmer. I used to make this recipe all the time as a teenager and my family loved it! Lady Baltimore Cake traditionally has a nut filling and what's called a "ice cream frosting." This frosting is not at all ice cream, it's really a light meringue. I usually make a typical American style buttercream frosting with butter, powdered sugar, milk and vanilla. And part of the reason I'm sharing this recipe with you on our nation's Independence Day is because I usually fill and decorate it with fresh summer berries. It makes for the most festive, and seasonal mind you, cake for the 4th. Homemade is always delicious and sometimes I find that simple decorations can really impress. You don't need to have any crazy decorating/ frosting piping skills for this one as you can see in the photo. If you have kids around, they even love putting the berries on the cake. So I hope you have a fun, sweet and enjoyable holiday!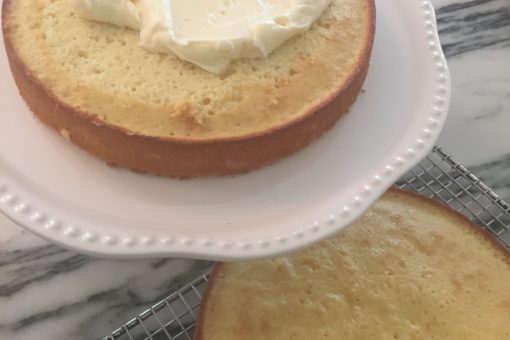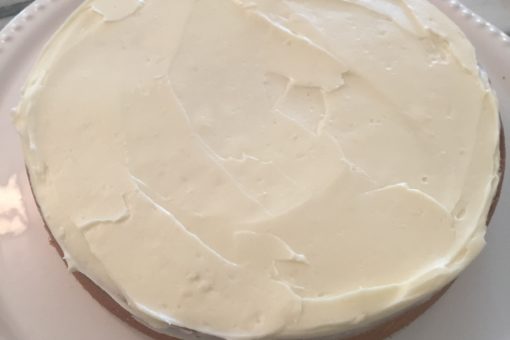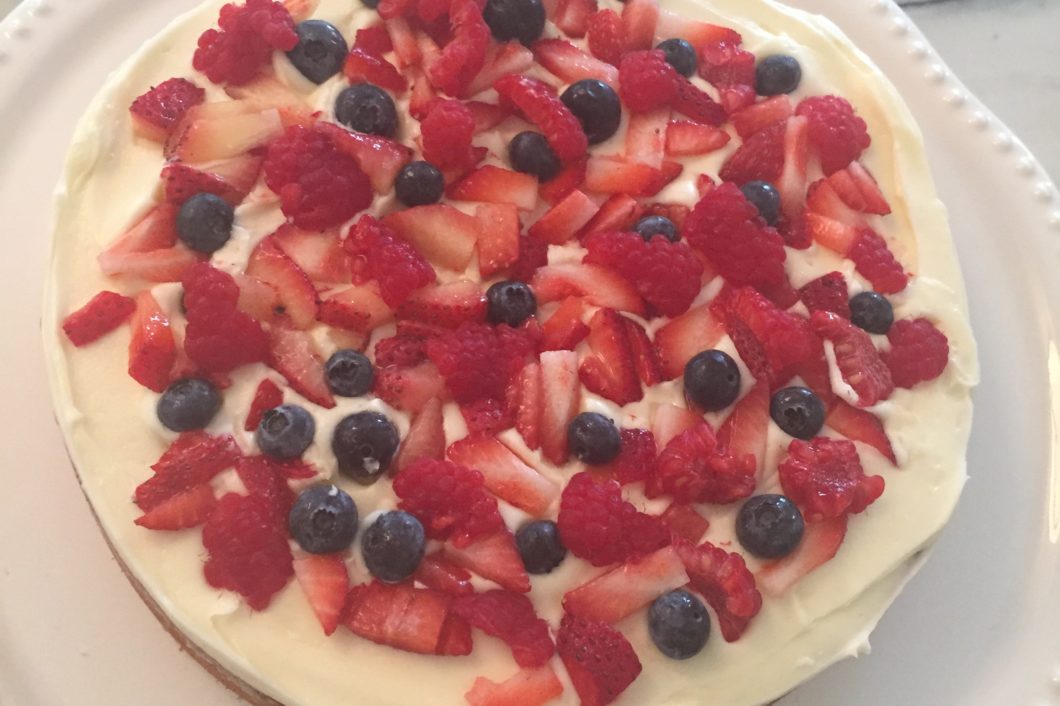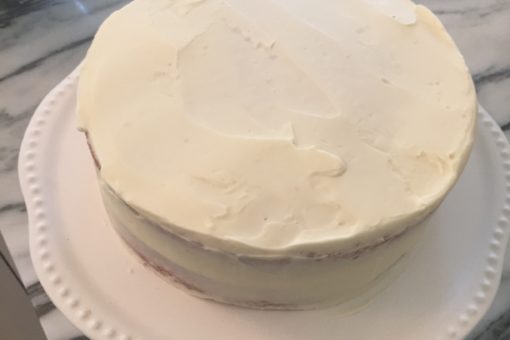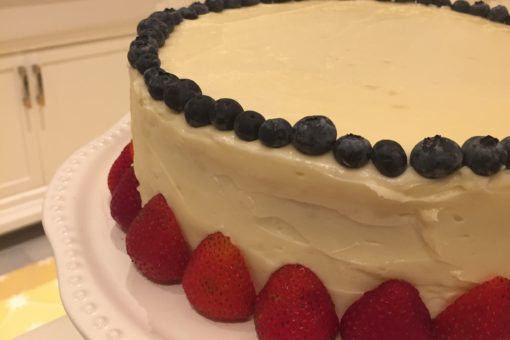 Print

Vanilla Cake with Fresh Berries: Happy 4th of July
window.location.href
1 ¾ cup cake flour
2 teaspoons baking powder
¼ teaspoon salt
1 teaspoon vanilla
¾ cup whole milk
8 tablespoons (1 stick) unsalted butter, room temperature
1 ¼ cup granulated sugar
3 large egg white, about ½ cup
Adjust oven racks to the center of the oven and preheat oven to 350˚. Grease 2, 8 inch cake pans. In a large bowl, sift together flour, baking powder, and salt and set aside. In a cup measure mix together milk and vanilla and set aside.
Place the butter and 1 cup of sugar in a stand mixer with a paddle attachment. Cream butter and sugar until light and fluffy. On medium, slowly add in half the milk mixture. Then turn down the mixer to medium- low speed and add half the flour mixture. Turn of the mixer and scrape down the side of the bowl. Then turn the mixer back on and the rest of the milk mixture, followed by the rest of the cake flour. Make sure the cake flour is well incorporated, but do not over mix. Remove this batter from the mixer and place it into a large bowl. Clean the mixing bowl.
With a whisk attachment, place the eggs in the clean mixing bowl and whip on high. Once the egg whites start to froth and whip up, add the remaining ¼ cup of sugar. Beat the eggs on high until firm, but not dry.
Take one third of the egg white mixture and gently fold into the batter with a spatula to lighten it up. Then gently fold in the remaining egg whites gently in two more stages. Pour the batter into the cake pans and bake for 20 to 25 minutes until a toothpick inserted into the center comes out clean. Cool cakes, in the pans, on a wire rack for 10 minutes before letting them cool completely outside of the wire rack, about another 40 minutes.
While Cakes are cooling feel free to try Fanny Farmer's traditional Ice Cream Frosting (not really ice cream) recipe, or make your frosting of choice. Clean, dry and cut berries for decorating if desired.
Cut the rounded tops off of the cooled cakes to make them even and flat so it's easy to sack them. Place one cake on cake plate/stand. Spread a thin layer of frosting on the top of the cake and sprinkle evenly with fresh berries. Add the second layer on top. Frost the entire cake and decorate with berries.
No Berries, no problem try decorating the cake with sprinkles or other fresh fruits.
Jam it! Try putting your favorite jam or preserves in the middle of the cake.