Basil and Mint Pesto, Dairy-Free & Vegan

July 21st, 2017

0 comments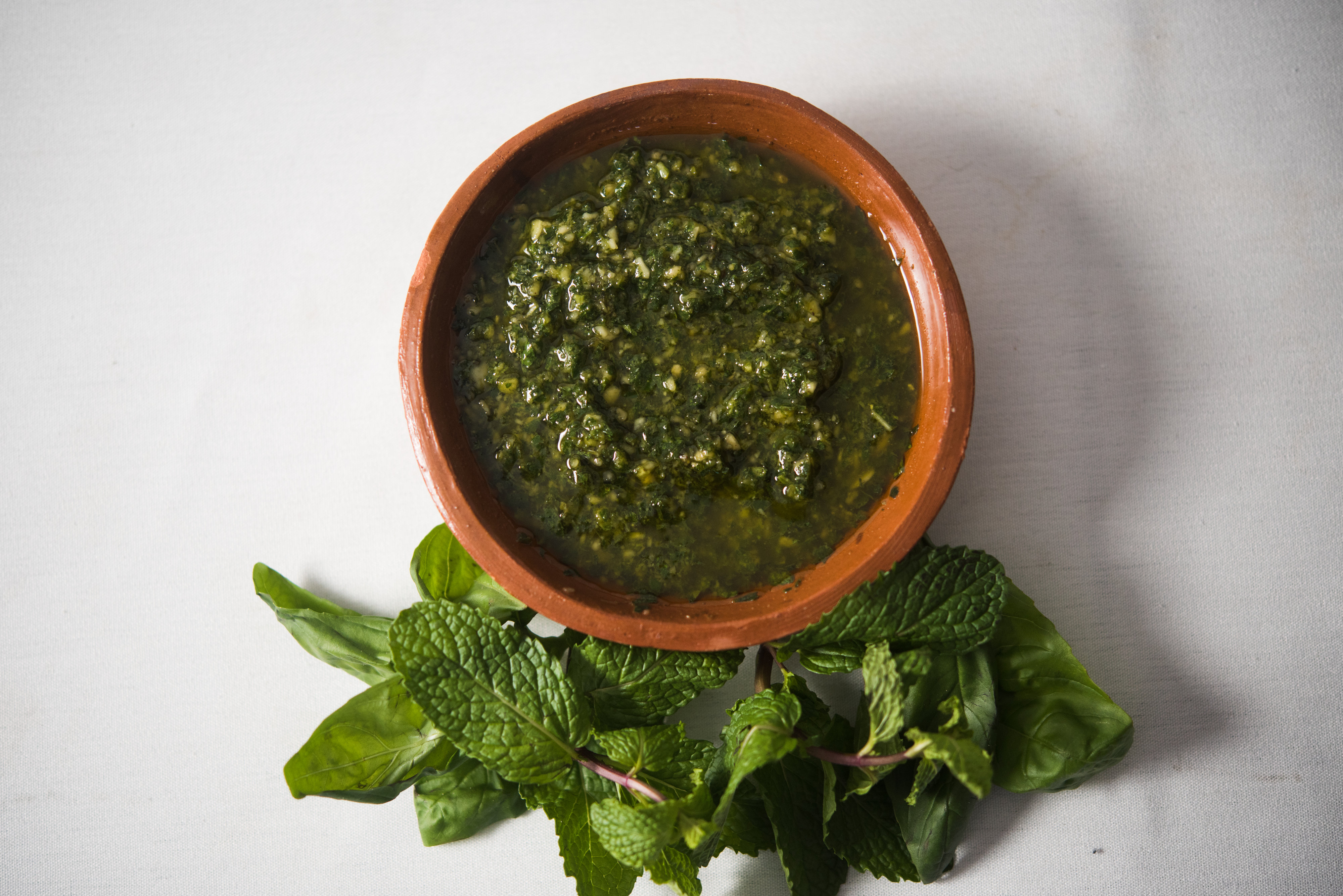 It's the perfect time to use those herbs growing in the garden or that window planter box. It's summertime so we all know there are some herbs that grow like weeds, mint being one of those. Mint is so versatile. It's great for fresh mint tea (iced or hot), ice creams, sprinkled in salads, but I love making pesto with it. When mint is in abundance, making pesto is perfect because it freezes so well. Traditional pesto has only basil, olive oil, pine nuts, and Parmigiano Reggiano cheese. I started making my basil and mint pesto recipe for a few clients that couldn't eat dairy, hence no cheese. No matter what you are making, it goes with almost everything. Use it as a dip or spread, toss it with some pasta, or rub it on chicken or grilled meats.

Print

Basil and Mint Pesto, Dairy-Free & Vegan
window.location.href
1/4 cup pine nuts
1/4 cup blanched sliced almonds
1/2 cup fresh basil leaves, chopped
1/2 cup fresh mint leaves, chopped
2 cloves garlic, roughly chopped
1/2 teaspoon fine sea salt
1/4 teaspoon freshly ground black pepper
3/4 cup extra virgin olive oil
Adjust two racks in the middle of the oven and preheat to 350˚ degrees. Line two baking sheets with parchment; place the almonds on one sheet tray and pine nuts on the other. Toast the nuts until very lightly golden brown around the edges, about 4 to 6 minutes.
Place the nuts, basil, mint, garlic, salt, pepper, and ¼ cup of oil in the blender with the top on. Turn the blender on medium. Remove the small circular top in the middle of the blender and slowly add the oil. Once all of the oil has been added, turn the blender on high for about 5-10 seconds to better blend/ emulsify the sauce. Feel free to keep the sauce a little chunky or blend further for a smoother consistency. Adjust seasoning as desired. The sauce stores well in an airtight container for up to 5 days.
Try replacing the basil with cilantro, or use only one herb of choice.
Make it cheesy, add 1/4 cup of grated Parmigiano Reggiano.
Make and freeze, the sauce freezes well for up to a month.
Serve the pesto with grilled meats or chicken. Or toss a little with cooked shrimp.