Chocolate Pistachio Granola Bars

June 19th, 2017

4 comments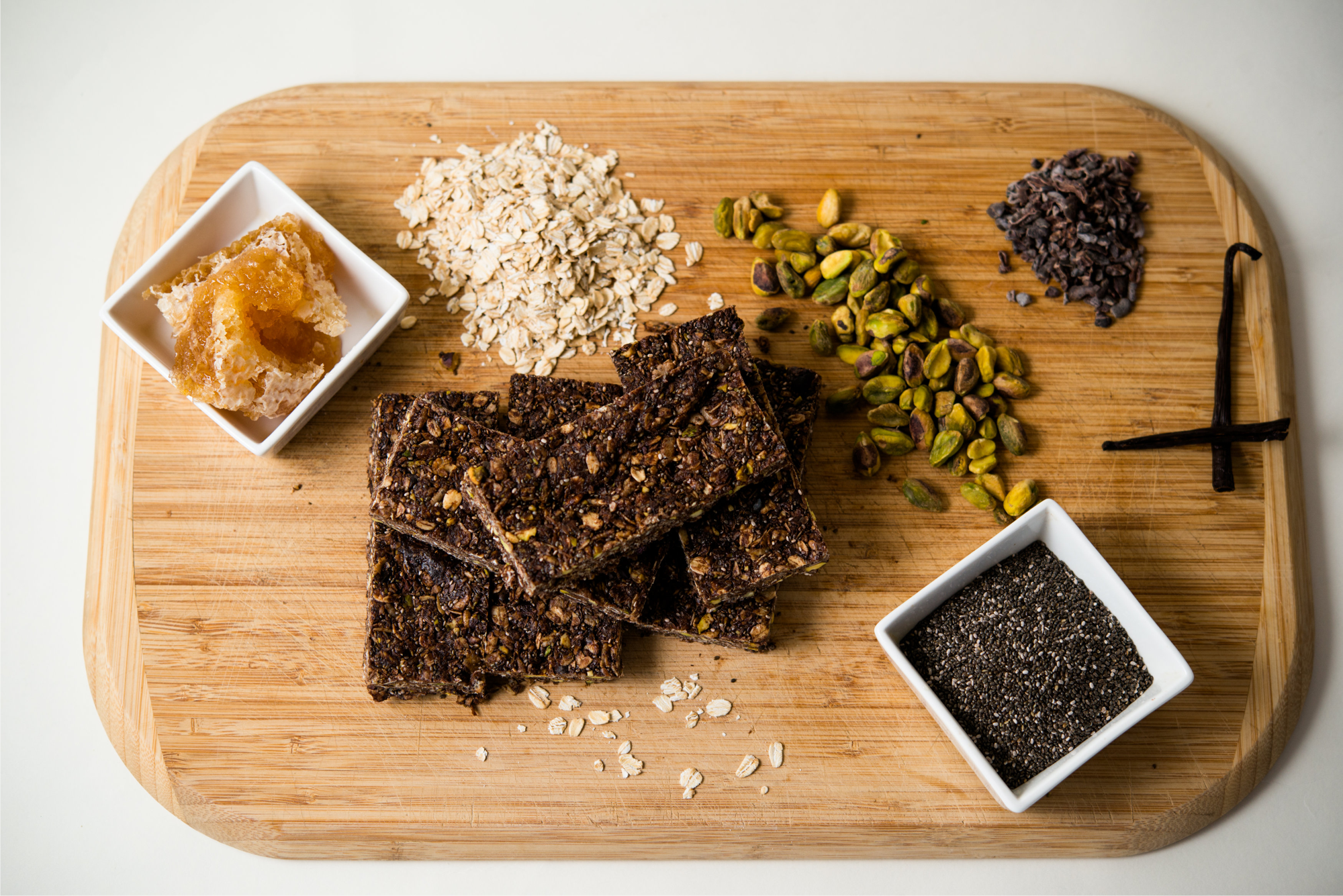 I've always loved sweets. And growing up granola bars were the perfect snack for me. It wasn't until I got older that I learned, how much refined sugar they contained- holy moly! After that realization, I thought, how can I make yummy granola bars but without all the unhealthy sugars? So I turned to my friend honey, and because I'm also a chocaholic I decided I would also try making healthier chocolate granola bars. I played around with recipes and added some super foods like chia, flax, cocoa nibs, and nuts and I was in business. Crunchy chocolate granola bars never tasted so good and guilt free!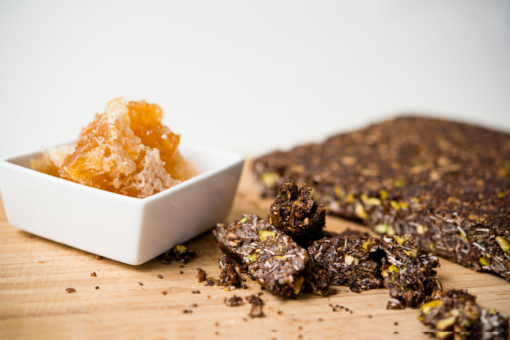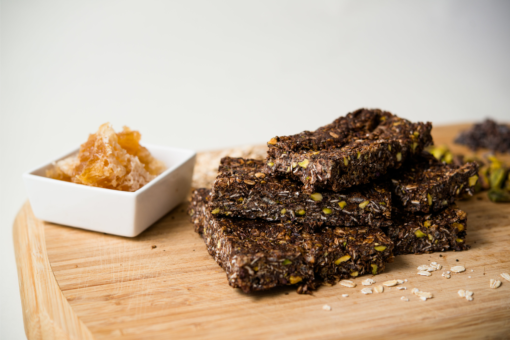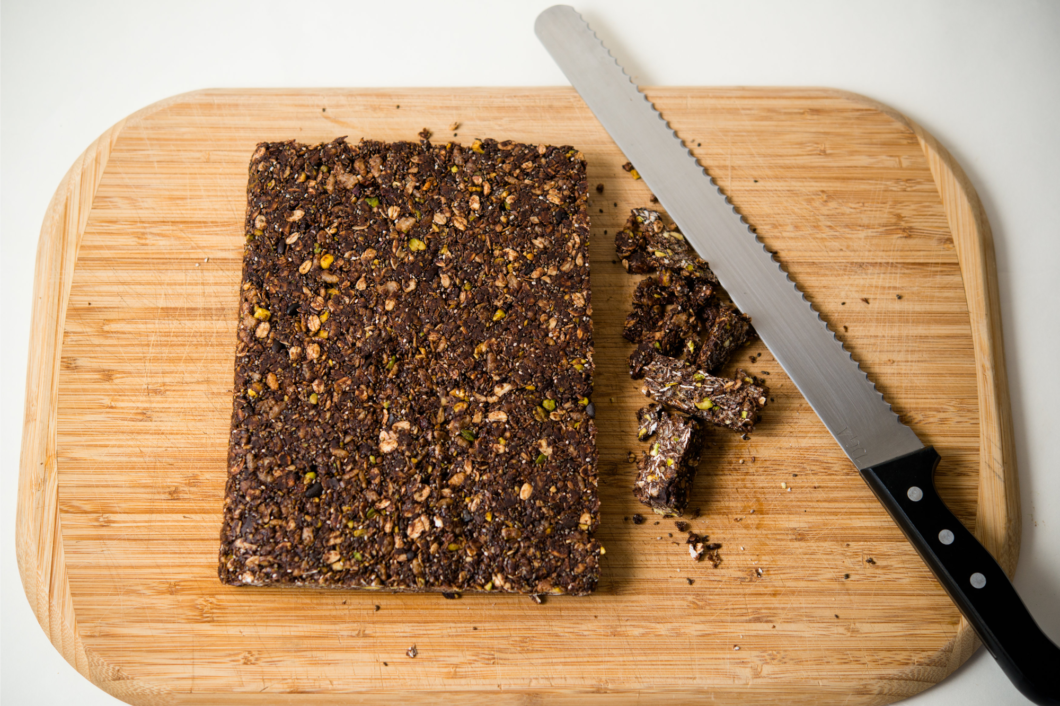 Print

Chocolate Pistachio Granola Bars
window.location.href
2 cups old fashioned rolled oats
1 cup pistachios, roughly chopped
1 cup almond or cashew butter
3/4 cup puffed brown rice cereal
½ cup creamed honey
¼ cup cocoa powder
¼ cup chia seeds
¼ flax meal
1/3 cup cocoa nibs
1 teaspoon vanilla bean paste or vanilla extract
½ teaspoons fine sea salt
Preheat the oven to 350° F. Line a 9x13 inch baking dish with a foil or parchment paper, being sure to cover all edges, leaving a about a ½ inch overhang on all sides. Line a sheet pan with parchment. Place the oats on the baking sheet and cook until lightly toasted, about 10 minutes then cool to room temperature.
Meanwhile place the almond butter, honey, vanilla bean paste and sea salt in a medium pot. Cook over medium high heat, stirring continually with a rubber spatula until all ingredients have melted into one smooth mixture, about 5 minutes. Do not leave unattended as the mixture can burn easily. As soon as everything has melted together transfer a large bowl.
Combine the pistachios, chia, cocoa powder, flax meal, cocoa nibs, and oats in a large bowl. Scatter the mixture over the nut butter and with a spatula, or clean hands, mix everything together until it's well combined and the mixture is a solid chocolate mass. Sprinkle in the puffed brown rice cereal and gently mix with your hands.
Place the granola mixture in the prepared baking dish, being sure to cover the entire pan evenly. With your hands, press the mixture firmly down, into a compact/solid block. Chill in the freezer until firm, about 15 minutes or refrigerator until firm, about 2-3 hours. Once the bars are cooled and firm, lift the foil or parchment paper from the dish and place on a cutting board. Trim the edges (perfect for light snacking), then cut into bars and enjoy the delicious chocolaty goodness!
Try wrapping these individual bars in plastic wrap and storing them in an airtight container. These are perfect for grab and go snacks. They can be stored for up to one week in this way.
Cut, wrap and freeze each piece in plastic wrap for individual grab and go or store in ziplock bags or airtight container for up to 3 weeks.
Edge trimmings are terrific crumbled on yogurt with fresh berries.
Get nutty, swap out pistachios for peanuts, cashews, almonds or any a mix of nuts.
Add some dried cherries or cranberries for extra fruitiness!