French Lentil Salad with Leeks

August 30th, 2017

0 comments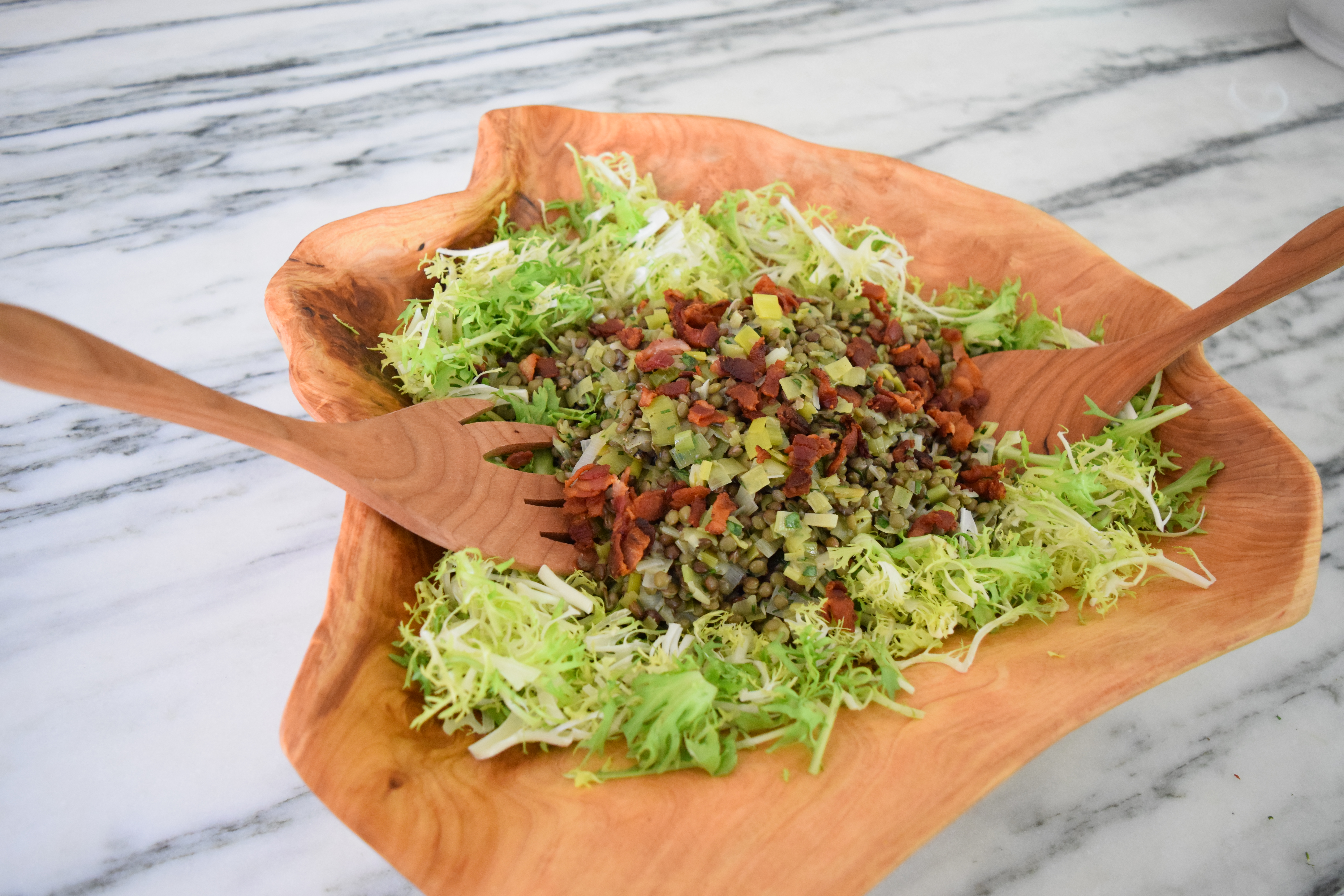 Lentils are packed with protein, making them an excellent source of lean, vegan/vegetarian protein. This is a great salad not just during the summer, but all year round. Serve it as a main course, on a brunch buffet or as a side dish. Packing lunches for the fall? Why not try adding this salad to your repertoire. Normally I serve it well chilled, but it can be served room temperature or even warm. Traditionally this salad is served with lardons, rendered bacon. Want to keep it vegetarian/ vegan? No problem, that's easy. Simply omit the bacon. However you make it, it will be refreshing and filling.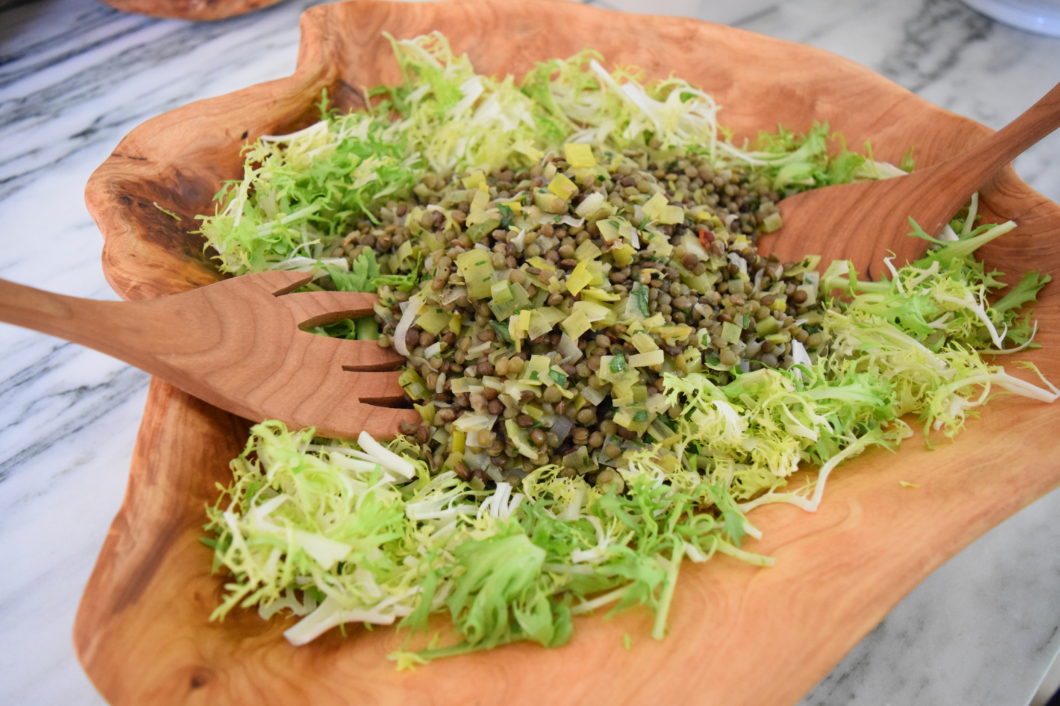 Keep it vegetarian/ vegan.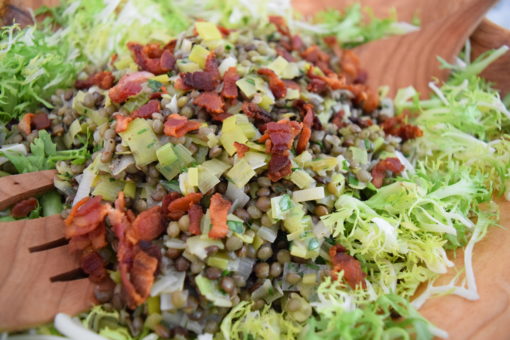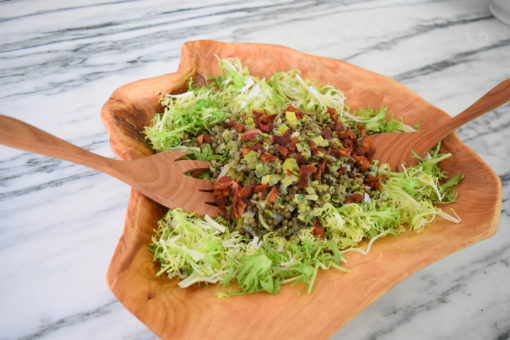 Print

French Lentil Salad with Leeks
window.location.href
3 teaspoons plus 3 tablespoons extra virgin olive oil
2 large shallots, peeled
1 medium carrot, peeled cut in half
1 stick celery, cut in half
½ teaspoon dried thyme or 1 teaspoon fresh thyme leaves
1 teaspoon fine salt
1 ½ cups dried Le Puy, French green lentils
½ pound thick cut bacon, *optional
1 small leek, cleaned and chopped
5 ounces green beans, trimmed and chopped into ¼ inch rounds
½ teaspoon paprika
1 teaspoon freshly ground black pepper
2 teaspoons Dijon mustard
3 tablespoons lemon juice
2 teaspoons chives, chopped
3 tablespoons fresh parsley, chopped
Place 1 teaspoon of oil in a medium sauce pot with shallots, carrot, and celery. Turn the heat on medium-high and cook for 3-5 minutes until the carrots and shallots start to brown. Sprinkle vegetables with 1 teaspoon salt, add lentils, 4 cups of water and bring to a boil. Lower heat to a simmer, medium-low/low heat,and cook for about 20-25 minutes until the lentils al dente. If the lentils absorb all the water before they are cooked, add more water and cook until al dente. Place the cooked lentils in an 9 x 13 inch pan and cool in the refrigerator for an hour.
While the lentils are cooking, on medium-high heat place two teaspoons of oil in a large skillet. Add the leeks to the skillet and cook until the leeks start to soften and become translucent, about 3 minutes. Add the green beans and cook for another 2 minutes until the colors becomes bright green but they still maintain their crunch. Set aside to cool.
If adding bacon, place raw bacon in a medium skillet on medium/medium-high heat. Render bacon for about 15 minutes until crispy. Remove rendered bacon pieces out of the skillet with a slotted spoon and place on plate lined with paper towel to absorb excess fat. Set aside.
Make the vinaigrette for the salad by mixing the paprika, pepper, Dijon, lemon juice and 3 tablespoons of olive oil in a small bowl. If there is excess liquid in the lentils, remove the lentils with a slotted spoon and place into a large mixing bowl. Add the leeks and green beans, vinaigrette, chives and fresh parsley to the lentils and toss. Taste the salad and adjust the seasoning. Place in a large serving boil, garnish with lettuce and sprinkle with bacon if desired.
Add color by throwing is some shredded carrots and or chopped cherry tomatoes.
Shrimp for bacon: swap out rendered bacon for cooked shrimp.
Perfect to make a day ahead and let chill over night. Reserve the vinaigrette on the side until you are ready to serve the salad.