Pistachio Orange Muffins, Gluten-Free & Dairy-Free

June 2nd, 2017

0 comments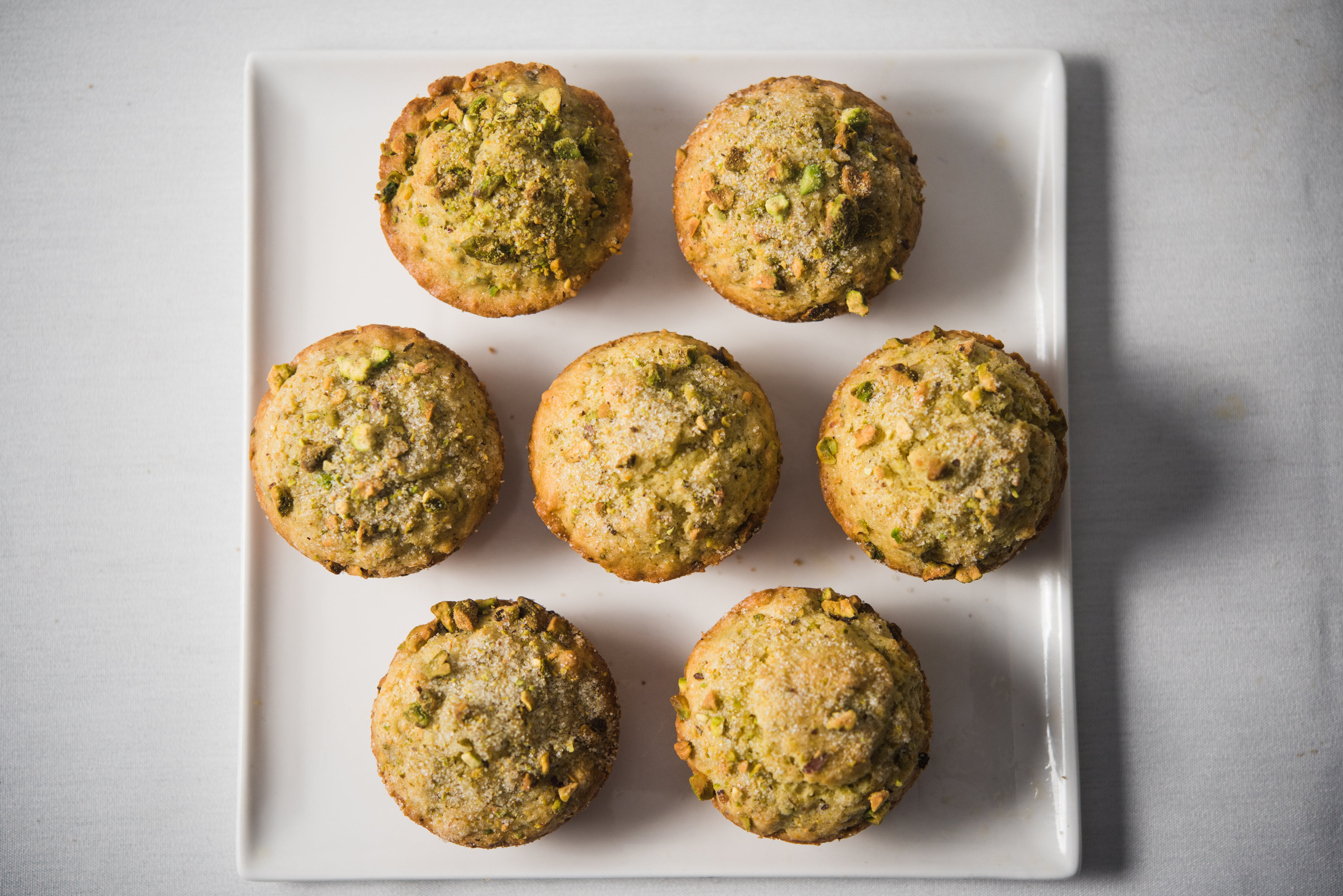 Baking has always had my heart, so waking up to wholesome freshly baked breakfast treat is a heavenly way to get the day started. Muffins are never a bad idea in the morning, but you have to be careful because they can be loaded with fat, calories, not to mention- gluten and dairy. Sometimes I'm also craving something different from the normal blueberry option. I created this recipe out of two reasons. Reason numero uno, I wanted a healthy gluten-free, dairy free muffin that left me feeling good and energized after I ate it. And numero dos?  I love pistachios! Plus they always remind me of my dziadzia, "grandpa" in Polish. My mother's father, a blond hair (in his heyday), blue eyed man who gave warm hugs like a friendly bear, would always would bring us a big bag of pistachios when he came to visit. I loved popping open the pistachio shells. But It wasn't until I got older and learned the magic of pistachios in baking and confections. As a pastry student in France it was one of my favorite ingredients to bake with. Pistachios are perfect for salads, snack and now breakfast muffins. Not to mention, they are one of the lowest-calorie nuts, and offer high protein and fiber. All that goodness is loaded into these addictively good  muffins. If you don't eat the whole tray when you take them out of the oven, they last up to 2 days in an airtight container or bag, or freeze them, and thaw overnight at room temperature.
*My favorite gluten free flour is Bob's Red Mill Gluten Free 1 to 1 Baking Flour. Psyllium husk can be found your local health food store, or order my favorite here.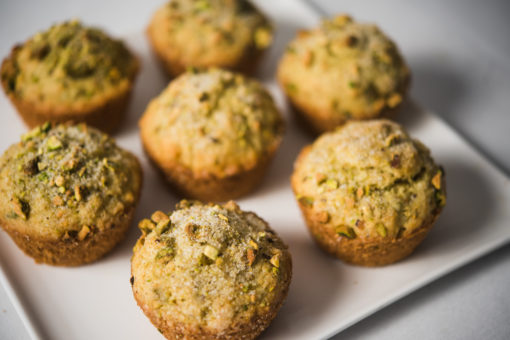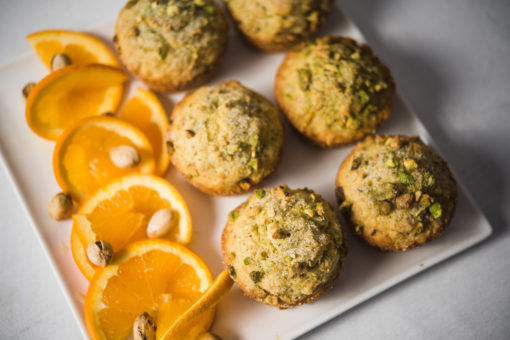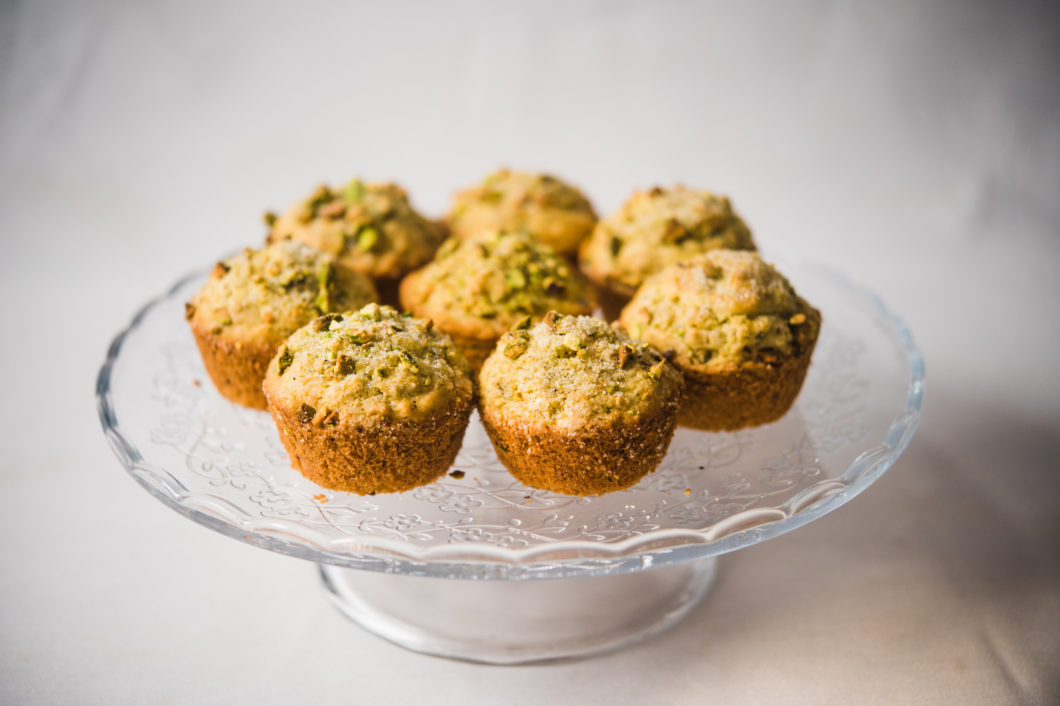 Print

Pistachio Orange Muffins, Gluten-Free & Dairy-Free
window.location.href
11 ounces or 2 1/3 cup gluten-free all purpose baking flour
1 tablespoon ground flax meal or 2 tablespoons psyllium husk
1 tablespoons baking powder
½ teaspoon salt
1 orange zested about 2 teaspoons, plus ¼ cup fresh orange juice
1 cup shelled pistachios
3 large eggs
¾ cup coconut sugar, maple sugar or granulated sugar
½ cup coconut milk
½ cup sunflower oil, or vegetable oil of choice
2 tablespoons turbinado sugar or coconut sugar
Adjust the rack to the middle of the oven and preheat to 350°. Prep a muffin tin with liners and set aside. Add flour, flax meal or psyllium husk, baking powder, salt and orange zest to a large mixing bowl. In a food processor, pulse pistachios until it starts to resemble coarse flour. Reserve 2 tablespoons of pistachios in a small bowl then add the remaining to the flour mixture.
Mix the eggs, coconut sugar, coconut milk, oil and the orange juice together in a medium bowl. Add the wet ingredients to the dry ingredients and mix until well incorporated. Using an ice cream scoop, scoop the batter into the muffin tins. Combine the 2 tablespoons of reserved pistachios with the turbinado sugar or coconut sugar together in a small bowl. Sprinkle evenly over the top. Bake until lightly golden brown and a toothpick comes out clean, about 18-20 minutes. Let cool completely before devouring.
If using regular flour omit the psyllium husk/flax meal.
Make it berry good. Fold in 1 cup of raspberries, chopped strawberries or blueberries to the batter before scooping and baking.