Portable Make Ahead Memorial Day Berry Trifle

May 29th, 2017

0 comments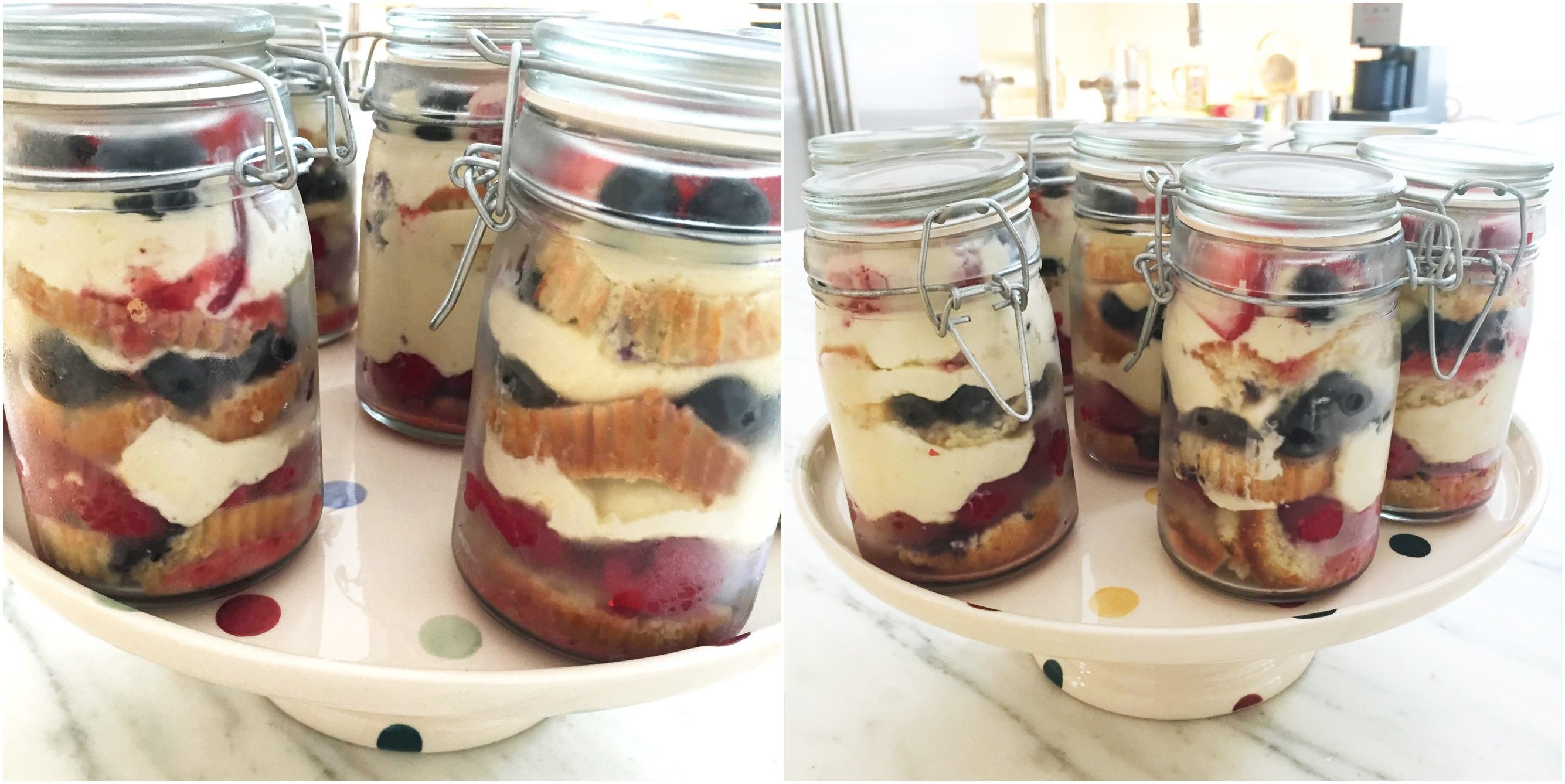 Summer berries are a perfect Memorial Day dessert. They're good for you but also refreshing, especially when layered with cake and fresh sweet cream. And when you mix up the colors and variety they also give that patriotic nod. I love bringing desserts to parties or even packing them up for a picnic. But transporting them can sometimes be a nightmare. I found that mason and weck jars are a great choice because they are practical for transport and serving, but they're kind of fun and eye catching. I like to take some of the berries and put them in the blender with vanilla bean and maple syrup to make a yummy sauce. Then I use either pound cake or my biscuit recipe as a platform to soak up all the berry juices and my sauce. For the cream layer, I do one of two ways. Depending on what I have on hand and the mood I'm in, I layer it with vanilla pudding or a homemade vanilla whipped cream. You can even make this 8 hours ahead and then voila-they appear at the table, perfectly delicious and ready to eat!

Print

Portable Make Ahead Memorial Day Berry Trifle
window.location.href
Makes 4 weck/mason jars, 11.5 ounce
Vanilla Custard Recipe (or 2 cups vanilla pudding)
½ cup granulated sugar
¼ cup cornstarch
pinch fine sea salt
2 cups whole milk, or unsweetened almond milk, or milk of your choice
3 large egg yolks
2 tablespoons unsalted butter, or canned coconut cream (if dairy-free)
1 teaspoon vanilla bean paste or pure vanilla extract
Homemade Vanilla Whipped Cream Recipe (if not using vanilla custard)
1 ¼ cup heavy whipping cream
2 tablespoons confectioners' sugar
1 teaspoon vanilla bean paste or pure vanilla extract
16 ounces strawberries, washed, stem removed and quartered 
2 tablespoons to 1/4 cup maple syrup, or agave, depending on the sweetness of the berries
Danielle's Biscuit Recipe or Your Favorite Pound Cake
6 ounces blueberries, washed
6 ounces raspberries, washed
 
Place the sugar, cornstarch, and salt in a medium saucepot. Slowly add in the milk, whisking constantly until well dissolved. Whisk in the yolks and place the pot over medium-high heat. Cook, whisking often, making sure it doesn't stick to the bottom of the pan, until slightly thickened, about 5 -8 minutes. Once the custard thickens and forms a few bubbles at the surface, reduce the heat to medium-low and whisk continuously for a minute. Off the heat quickly stir in vanilla and butter (or coconut cream). Strain the pudding through a sieve directly into an 8 x 8 pan, container, or bowl. I like using a pan because there is more surface area and the pudding cools quicker. Cover with plastic wrap and refrigerate about 1 hour. *If making homemade whipped cream, whip the cream after you make the biscuits in step 2.
If using Danielle's Biscuits- Prepare according to the recipe and let cool completely. If your using pound cake, slice into ½ inch slices and using a round cookie cutter or round biscuit cutter that's just smaller than the circumference your jars. Placed pound cake rounds aside on a plate.
If using whipped cream instead of custard, place the heavy cream, powdered sugar and vanilla in large mixing bowl. Using a hand mixer, whipped the cream on high speed until doubles in volume and medium-firm peaks form. Do not over-whip, or else the fat and liquid start to curdle and separate.
Puree half of the strawberries in a blender with the maple or agave syrup until smooth. Transfer to a bowl and set aside. 
Place a couple of tablespoons of strawberry sauce on the bottom of each jar. Split a biscuit in half and place the bottom half of the biscuit on top of the sauce (or use a pound cake round if using pound cake). Layer evenly with more sauce, some blueberries and the custard or whipped cream. Place the other half of the biscuit or cake on top. Cover and refrigerate until ready to serve.
Make it chocolaty and cut up pieces of chocolate cake - if the cake is frosted- even better for those who love that creamy richness.
Make it boozy- add a splash or two of brandy, triple sec or framboise to the strawberry sauce.