Lemon Turmeric Vinaigrette

May 23rd, 2017

0 comments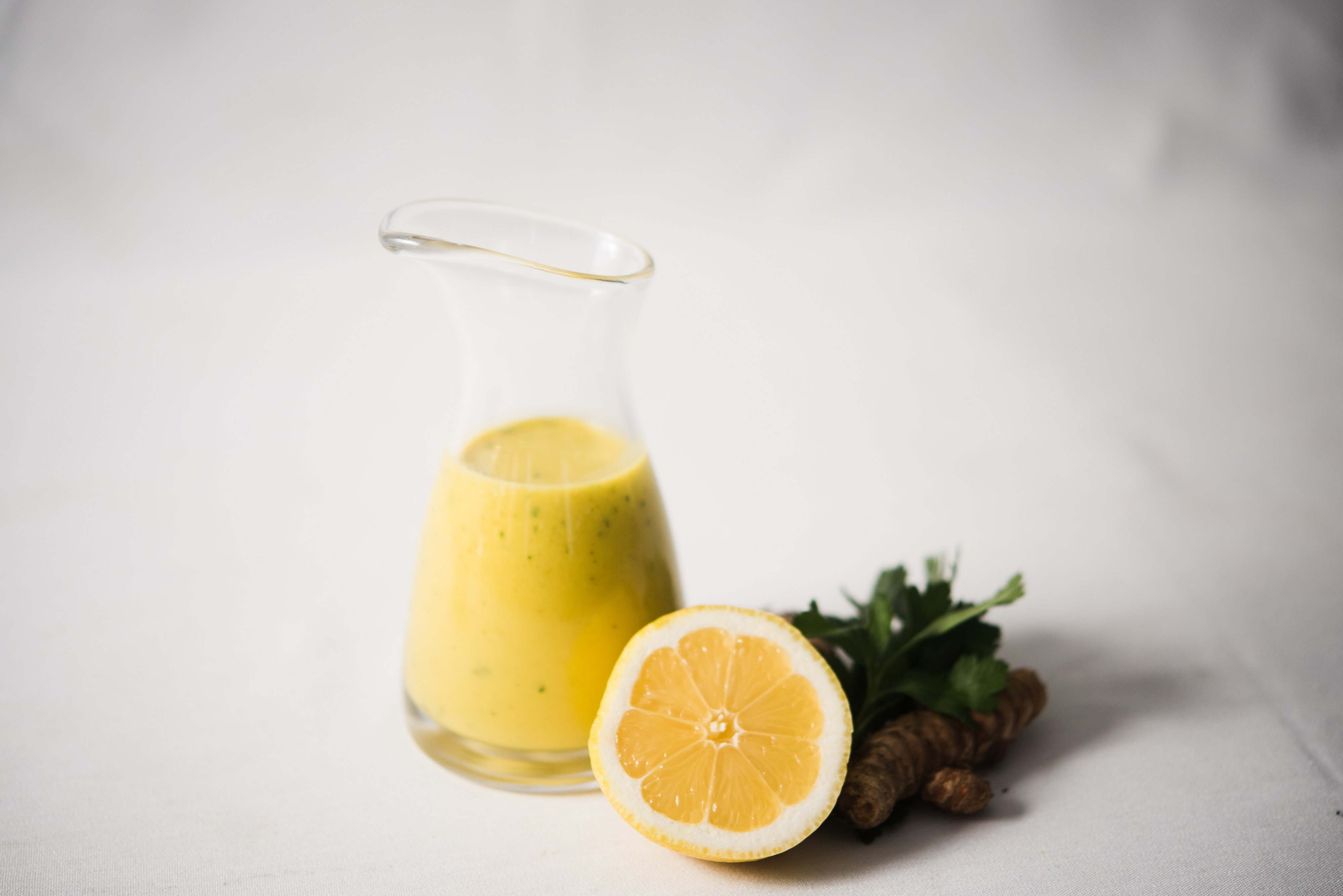 Summer is just around the corner. That means higher temperatures and if your like me, that also means enjoying lighter fare. Eating fresh salads are always a go-to meal when things heat up outside. Even though I love green salads, I also enjoy making quinoa and other grain salads. I'm always changing it up with different vegetables I get from the farmers market and a variety of proteins from fish, scallops, crab, grilled chicken, or even lentils and beans. But let's face it, what makes a good salad a great salad, is the dressing. This lemon vinaigrette is perfect and refreshing all year around. It's super easy and quick to make by using a blender, plus it does not have any "garbage" in it. Unfortunately, many store bought vinaigrettes are loaded with sugar, fillers and preservative. I prefer making large batches of vinaigrette so I always have some on hand in the refrigerator whenever needed. Cheers to healthy summer eating!

Print

Lemon Turmeric Vinaigrette
window.location.href
1/2 cup lemon juice, about 3 lemons
1 teaspoon lemon zest, zest from 1/2 lemon
1 small shallot, rough chop
1 garlic clove
3/4 teaspoon salt
1/2 teaspoon freshly ground pepper
1/2 teaspoon agave
1/4 teaspoon turmeric
1/4 teaspoon sweet paprika
pinch cayenne pepper
1/2 cup extra virgin olive oil
1/2 cup grapeseed oil
1 tablespoon chopped parsley
Place the lemon juice, zest, shallot, garlic, salt, pepper, agave, turmeric, paprika, and cayenne in the blender, cover and blend until smooth. Lower the speed of the blender to the lowest setting, remove the smaller top in the center of the blender cover and slowly drizzle in the olive and grasped oils. Add the chopped parsley, return the small blender top on the blender and blend on high for 5 seconds until the parsley is chopped into small pieces. Toss a few tablespoons with your favorite salad and enjoy.
Keep refrigerated in an airtight container for up to two weeks.
Spice it up by adding cumin and/or coriander.
Add your favorite herbs like basil, chives, or chervil.
Don't have a blender? No big deal, the vinaigrette will not be emulsified like you would make it in a blender. Just be sure to shake/stir before serving.