Spring Leeks with Ham and Gruyère

April 6th, 2017

1 comment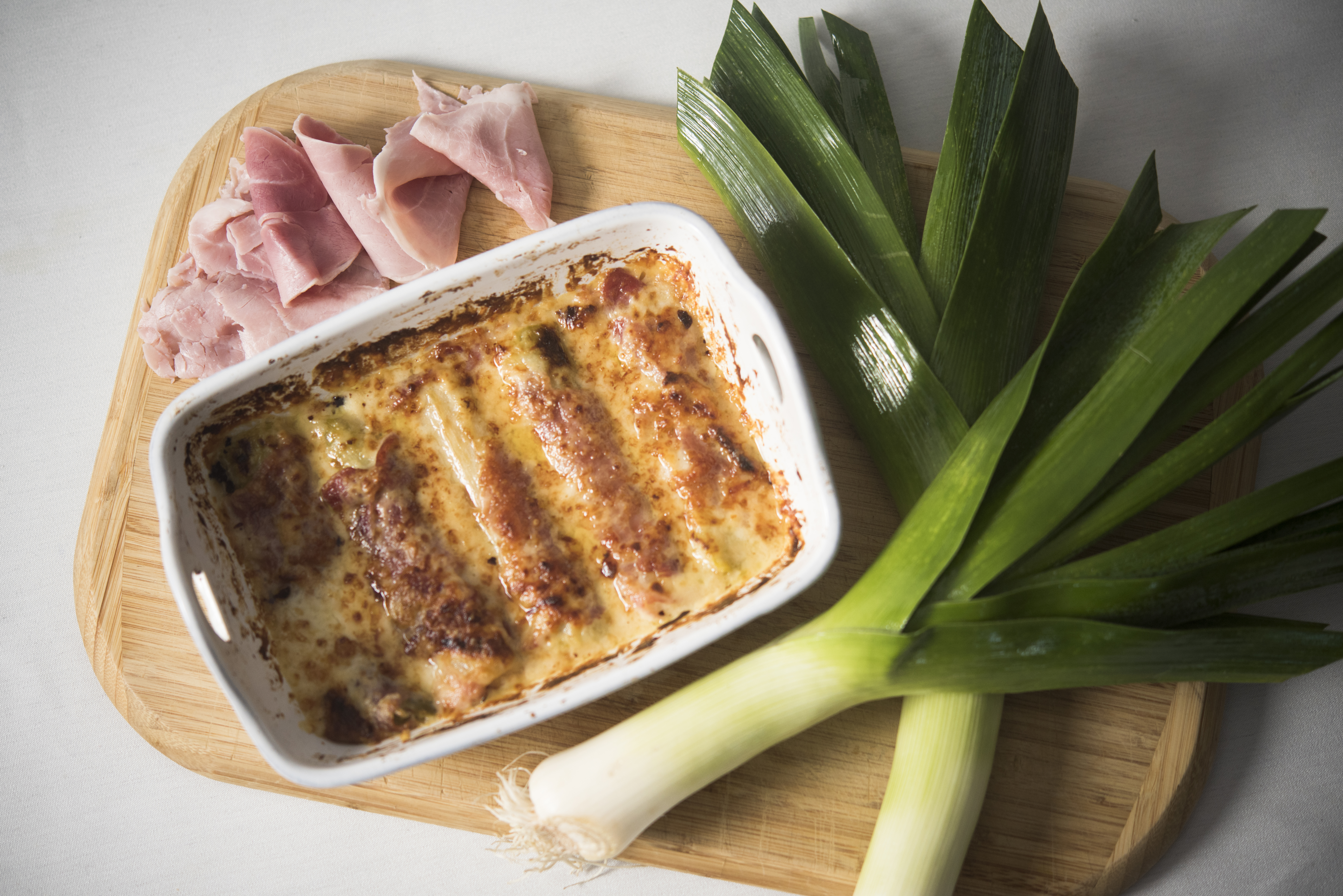 Easter is one of my favorite holidays. Growing up Easter and Christmas were always a big deal in my house, so that meant a feast! My mother was always planning and pondering her menus well in advance. And like many households, the big question was-what will it be…lamb or ham? In case you are asking yourself that question- no need to worry because I will give you one of each just in time for Easter.  This first one is a ham dish I learned from my French host mother, Martine who is a great cook. I also fell in love with leeks because of her. This recipe is also a heck of a lot easier and quicker than dealing with a whole ham! Quite often she served it with a fresh French baguette and it was a heavenly treat. And if you can't get to France- I suggest heading over to Orwashers Bakery for one of the best crusty French baguettes in city. Seattleites, I highly recommend Bakery Nouveau. It can also be served more like a side dish, either way you cannot go wrong. Bon Appétit!

Print

Spring Leeks with Ham and Gruyère
window.location.href
2 full servings, or 4 side dish servings
Béchamel
1 tablespoon unsalted butter or sunflower oil
1 ½ tablespoons all-purpose flour
1 cup whole milk, preferably organic
pinch of fine sea salt
1 teaspoon unsalted butter or olive oil spray
4 large leeks, trimmed, cleaned and cut in half * see DK Tips
1/3 pound of sliced Parisian ham, or your favorite quality sliced ham
1 cup gruyère cheese, grated
Preheat the oven to 450° F, lightly butter an 8 x 8 inch baking dish and set aside. Start making the béchamel by using a small sauce pot to melt the butter on medium-high heat. Add the flour and whisk until combined. Add in the milk and simmer for about 5 minutes, stirring frequently until it thickens and is no longer grainy. Remove from the heat and add a pinch of salt.
Place a steamer with one inch of water, on high heat. Once the water comes to a boil, add leeks and steam covered for 5 minutes. Place the leeks on a plate and let cool for five minutes.
Wrap each leek in a slice of ham and place them in the baking dish. Cover the leeks evenly with the béchamel and sprinkle with gruyère. Bake for about 45 minutes until the cheese melts and is golden brown.
Never cleaned a leek before? No worries! The white and light green parts are good for eating. Trim the dark green parts, as they are very tough. Since leeks tend to be very dirty and sandy it's important to wash them well. For this recipe when you cut the leeks in half they are NOT cut lengthwise down the middle, rather cut in half like cutting a tree.
Switch it up and use your favorite cheese or combination of cheeses.