Indian Spinach (Dairy-Free, Vegan)

September 17th, 2017

0 comments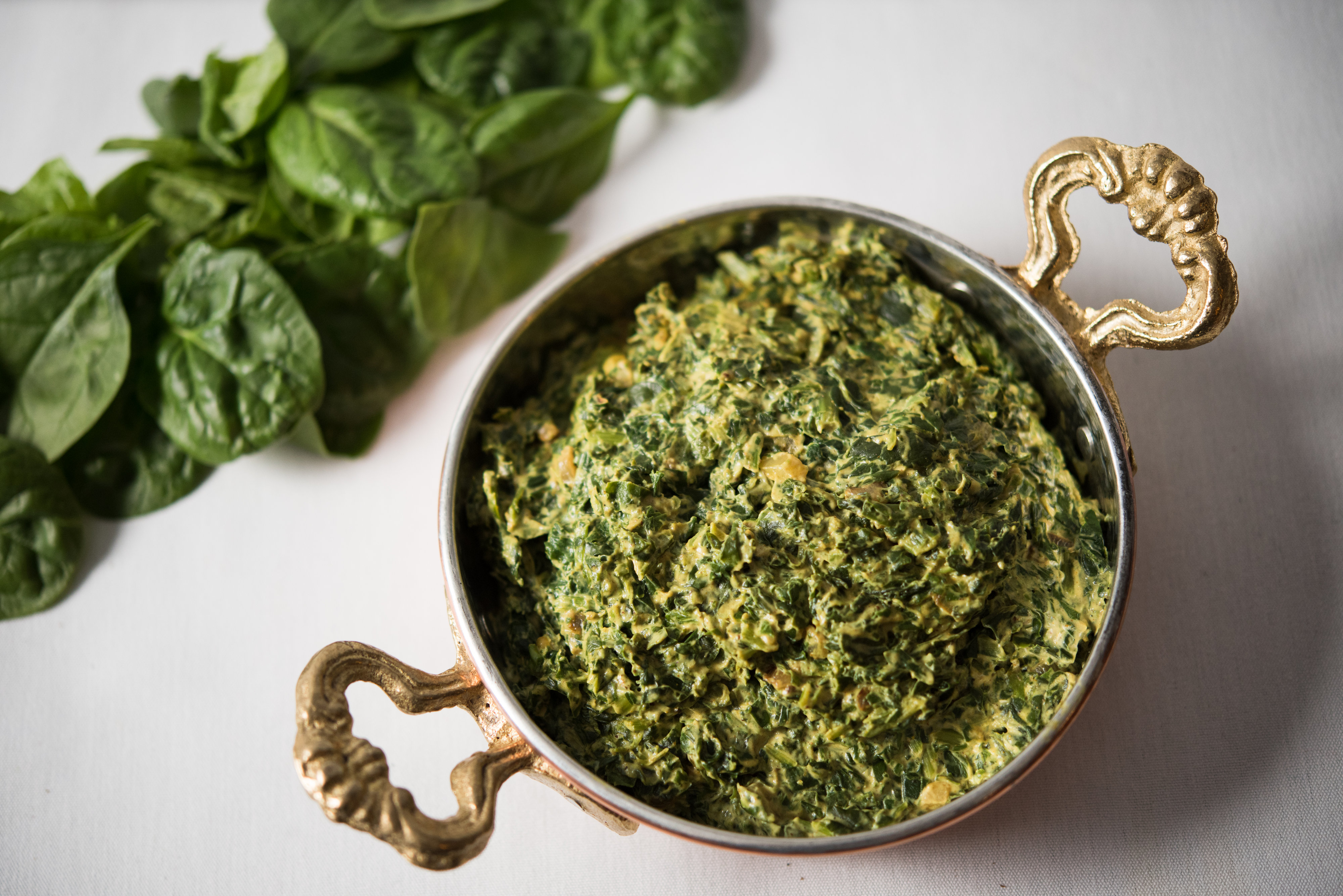 I became a huge fan of Indian food oddly enough, when I lived in France. I first tried a variety of Indian restaurants and immediately fell in love with all the flavors. I never attempted making any of my own until I started to hang around my good friends Sumati and Shubham in the kitchen. I just remember looking at Shubham's spice cabinet and feeling way out of my league. I'd watch him put a few teaspoons of whole seeds, as well as a variety of spices in a pan and I would think he was crazy. How was all of this going to come together and not be overwhelming?!? To my surprise everything was always balanced and loaded with flavor. It's because of Shubham that I got the confidence to use whole spices while cooking. Thus, bringing us to this spinach dish. Saag paneer, creamed spinach with fried paneer cheese is a crowd pleaser. But I, like many others today, experience difficulties in digesting dairy. So how could I create this creamy goodness and still feel good after? I decided to take a spin on this classic dish and make it vegan while throwing in some toasted whole cumin seeds.
Instead of using heavy cream or coconut milk, I make the spinach creamy by making a cashew cream with cashews and silken tofu. Soaking the cashews, preferably over night, softens them and makes for a smooth and creamy texture. And it's a great way to add a little protein to the dish. When I soak them overnight, I will always pull my spinach out of the freezer at the same time and leave them both in the refrigerator. This way my spinach thaws nicely. These little hacks make for a super fast preparation the next day, perfect for entertaining. And when you have guest coming over it's a lot less stress. I also guarantee if you do not tell them that this spinach is dairy free, they will never know. Make a vegetarian/vegan meal out of this Indian Spinach and serve it with my Freekeh "Biryani."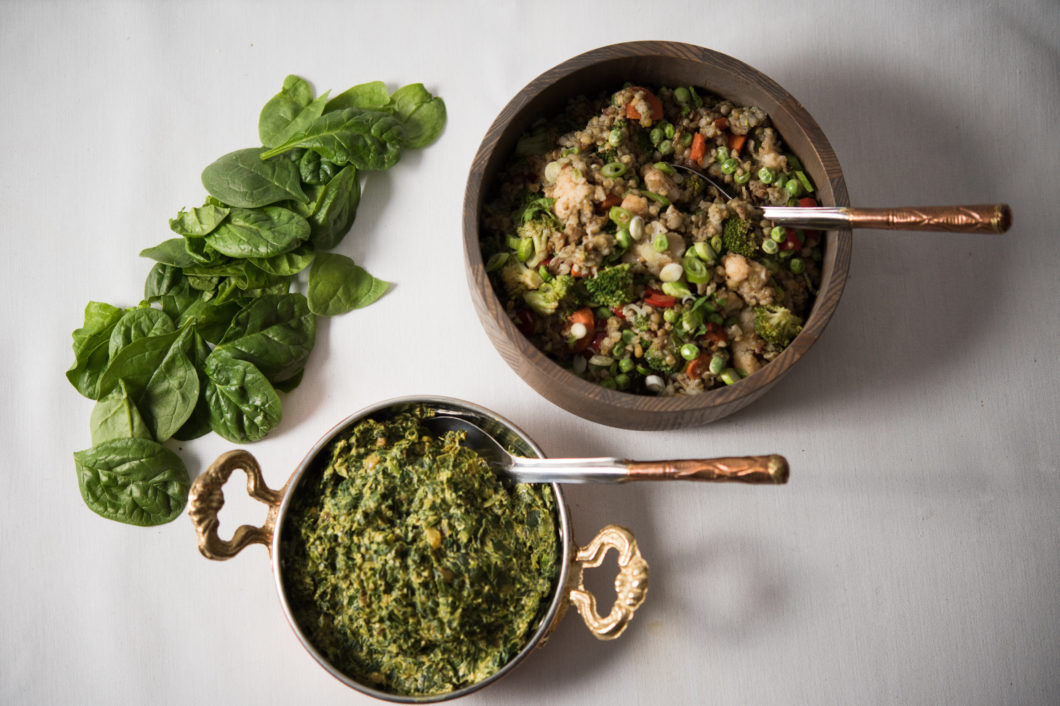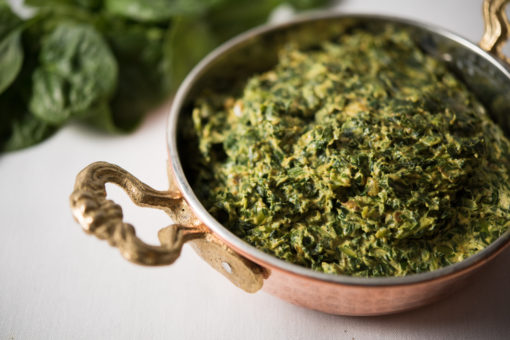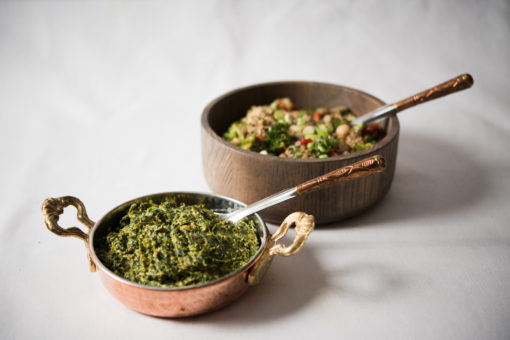 Print

Indian Spinach (Dairy-Free, Vegan)
window.location.href
4 servings (makes about 3 cups)
1 cup roasted unsalted Cashews, soaked in water
½ pound organic silken tofu, about ¾-1 cup
3 tablespoons olive oil
1 small Spanish onion, finely chopped
2 cloves garlic, minced
2 teaspoons garam masala
1 teaspoon turmeric
¾ teaspoon whole cumin seed
½ teaspoon freshly ground black pepper
¼ teaspoon ginger
pinch of cayenne pepper
16 ounces organic frozen chopped spinach, thawed, excess water removed
½ teaspoon salt
Cover cashews with water and let soak for at least an hour, or overnight. If soaking overnight, store in an airtight container in the refrigerator. After they have soaked, drain the cashews and place in a blender with the silken tofu and blend until smooth and creamy. Set the cashew cream aside for later use.
Place a large skillet on medium-high heat and add the oil and onions. Cook for about 2 minutes until they start to become translucent. Reduce heat to medium and add the garlic, garam masala, turmeric, cumin seeds, black pepper, ginger and cayenne pepper. Cook for about a minute until the spices become fragrant and toasted. Add the spinach and salt, mixing well. Stir in the cashew cream until the spinach is evenly coated and creamy. Stir constantly for about 1-2 minutes on the heat until the spinach is hot. Serve immediately.
Try thawing the spinach in the refrigerator over night or use fresh spinach instead. Cook 2-10 ounce boxes of fresh spinach in a skillet. Make sure the spinach cools completely before squeezing/draining excess water.
Some like it hot, add a dried chili arbol pepper to the spice mix while toasting the spices in the oil. You can also add more cayenne pepper or chili flakes.
Add texture, throw in some chopped water chestnuts. It's not traditional Indian at all, but adds a great crunch.
Tofu lover? Add some small cubes of firm tofu.
Serve as a dip with raw veggies or crackers.